Mobile PRUaccess (mAccess)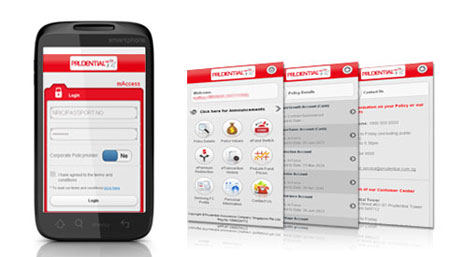 mAccess is the mobile version of PRUaccess. It was designed for optimised browsing for our policyholders using their smartphones to view their policy information and perform electronic transactions.
mAccess is a "lite" version of PRUaccess and contains the frequently accessed features of PRUaccess, for example, policy information and policy values. You can also update your contact details, or perform a Fund Switch or Premium Redirection online via mAccess.
Access to mAccess is automatic. At our corporate website at www.prudential.com.sg, when you click on the PRUaccess icon and the system detects that you are accessing via a smartphone, you will be given an option if you want to login to mAccess or PRUaccess. When you see the pop-up message (sample shown below), click on "OK" and you will be automatically directed to the mAccess login page.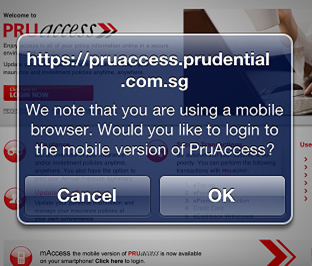 The ID and login to mAccess and PRUaccess are the same.
Guide to mAccess